The Treasure of San Gennaro is enriched with a new artwork. The Deputation of the Royal Chapel of the Treasure of San Gennaro has invited Jan Fabre to create a permanent work for the Chapel of San Gennaro.
The artwork 'Di Eusebia / Towards Eusebia,' donated by Vincenzo Liverino and Gianfranco D'Amato, is a panel entirely made of red Mediterranean coral mosaic. It is displayed, with the curation of Melania Rossi, in the Antisacristy where the keys that open the safe containing the vial with the blood of San Gennaro, an object of worship and popular devotion, are kept.
The artist has chosen to evoke the beginning of the history of this cult by remembering Eusebia, the devout woman who first collected his blood after his martyrdom in 305 AD.
Come and admire this new work of art, let yourself be captivated by the red of the coral. We look forward to welcoming you ❤️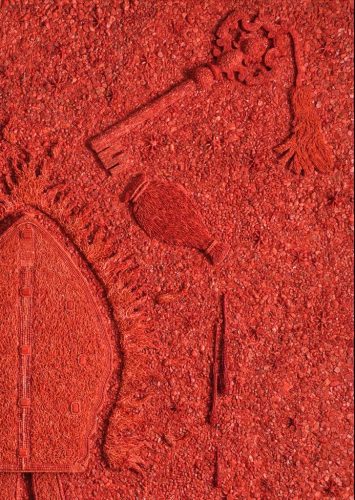 Credit foto Luciano Pedicini
The word 'Treasure', in sacred art, indicates the Chapel of the Relics, but in Naples the Treasure of San Gennaro also houses a priceless heritage of devotional objects made of gold, silver, bronze and precious stones. Over the centuries these riches have been donated to San Gennaro by Neapolitan and foreign kings, by Popes and by the people.
THE TICKET INCLUDES THE AUDIOGUIDE AVAILABLE IN ITALIAN, ENGLISH, FRENCH, GERMAN, SPANISH AND NEAPOLITAN.
In telling the story of the Chapel of San Gennaro it may seem strange to combine the words miracle, faith and secularism, but this is Naples: a city that has transformed San Gennaro into a collective rite that embraces all aspects of life and history.
BOOK YOUR VISIT IN ITALIAN AND ENGLISH
… IF YOU WANT TO LIVE A UNIQUE EXPERIENCE, TAKE THE TOUR IN NEAPOLITAN!
If you buy in advance on the San Gennaro site, you get one of our beautiful shoppers as a gift
Mobile app 'Tesoro di San Gennaro'
You can download the San Genarro app via your usual app store, and visit the Treasury directly with your smartphone to learn about the history, secrets, events and useful information.
Explore the Chapel and the Treasure Museum of San Gennaro, interacting with the multimedia contents: listen to the audio tracks and watch the videos by clicking on the colored pins. Start your digital experience: the Treasure of San Gennaro has never been so close to you.